National Truck Driver Appreciation Week
National Truck Driver Appreciation Week
Sunday, September 10, 2023 8:00 AM - Saturday, September 16, 2023 8:00 AM (CDT)
Description
---
APPRECIATION GIFTS
Celebrated annually, this year's National Truck Driver Appreciation Week runs from September 10-16, 2023, and takes on a special meaning for our nation's economy! Professional truck drivers are the key link in our nation's supply chain, continuing to deliver despite unprecedented obstacles. Truckers move America forward!

The LMTA Foundation will mark Louisiana's Truck Driving Appreciation Week by shipping appreciation gifts to participating companies. We have hundreds of FREE gifts to allocate to Louisiana trucking companies. Gifts can be registered by emailing burton@lmta.la, with an initial restriction of 50 gifts per company.

Please note that the LMTA Foundation will distribute gifts on a first-come, first-served basis; gift contents and quantities are subject to change. Only companies that employ drivers are eligible for gifts. Allied business companies (i.e. insurance, equipment, dealers, etc.) will not be shipped gifts.

If you have any questions or concerns regarding appreciation gifts, please email LMTA Executive Director Renee Amar (renee@lmta.la).
The deadline to register is August 23, 2023.
---
PUBLIC IMAGE CAMPAIGN
We are excited to share that thousands will be able to see our 2023 Truck Driver of the Year, Mr. Nelson Landry, on billboards across the state to celebrate Truck Driver Appreciation Week! Billboards will be placed in the following areas:
Alexandria
Lafayette
Monroe
Northshore
Shreveport
Thibodaux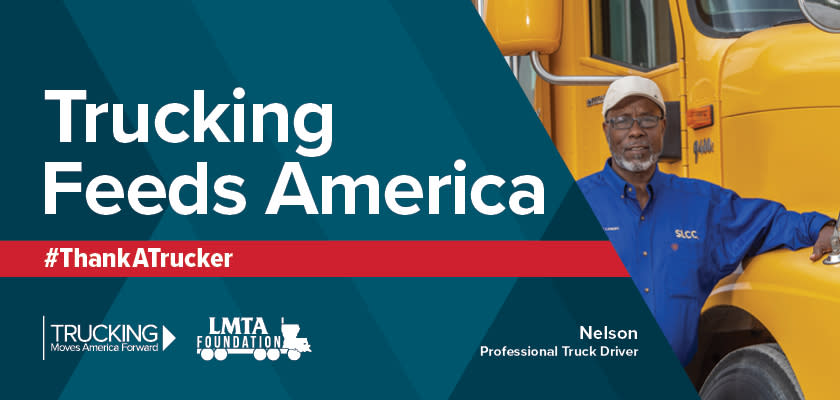 Sunday, September 10, 2023 8:00 AM - Saturday, September 16, 2023 8:00 AM (CDT)